Trusted Maid, Cleaning & Disinfection Services in Canton and Northeast OH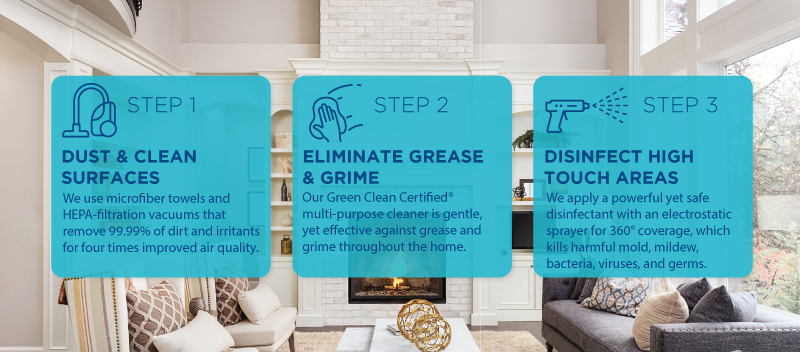 PUREmist®: Green Cleaning and True Disinfection
Since 2004, we've continued to bring our customers the latest innovations in home cleaning and cleaning technology that go far beyond typical residential cleaning companies. We are proud to have always focused on the overall wellness of our customers' and their homes and creating a living space that feels healthier and looks spectacular. Now…We introduce Green Cleaning + Disinfection with PUREmist®!
We now bring in the element of disinfection along with our green cleaning at Maid Brigade! We are a Green Clean Certified® maid service, providing safe and healthy cleaning services to your home, family and the environment. In addition to our green cleaning care, we are now able to truly disinfect your home using PUREmist®, electrostatic spray technology. Germs, bacteria and viruses are a concern for all of us, and we recognize the importance of bringing safe cleaning and disinfection services to your home. Our PUREmist® sprayer provides 360-degree hospital-grade disinfection on high-touch surfaces such as light switches and doorknobs. We are proud to have significantly increased the thoroughness of house cleaning and wellness for our customers while significantly reducing the associated harmful chemicals.
PUREmist® disinfects against:
Cold & Flu strains
E. coli
Salmonella
Staph
Norovirus
Canine Parvovirus
Mold/mildew
Foul odor
And much more!
Learn more about the benefits of PUREmist® in your home.
The Maid Brigade Difference: Our People Shine!
To maintain your trust and ensure the quality that you deserve, we have high standards for selecting only the most qualified housekeepers to send into your home. Surpassing minimum requirements, we perform thorough background checks, bond and insure all maids, and ensure a drug-free workplace (every team member undergoes pre-employment and random drug tests). Once hired, each maid receives extensive training and works as part of a team to clean your home more efficiently - Every Time. Our goal is to earn our invitation back each time we work for you!
Maid Brigade of Northeast Ohio is proud to be locally owned and operated with the backing of a national brand. Our support team has a vast amount of experience from cleaning homes across the globe since 1979. We know surfaces, flooring, and are at the forefront of research about what's most effective and healthiest for our customers. Don't trust your home and family's health to just anyone. Call us today at (330) 453-6000 for a Free, No Obligation Estimate.
We provide extensive, regular training for our cleaning teams on our PUREmist® sprayers, so every home we clean and disinfect is given top quality care, every single time. Upon application, our green cleaning and disinfecting solutions are safe for your whole family, including pets! You can always count on Maid Brigade to give your Canton or NE Ohio home a trusted and reliable cleaning along with outstanding customer service.

Choose The Best Cleaning & Disinfection Frequency for Your Home


Commercial Disinfection
In addition to our trusted residential home disinfection services, we're excited to bring our 360-electrostatic spray disinfection services to small and medium sized businesses in and around Canton, OH. For a safe business and workplace, disinfection services are crucial. We know the health and safety of your employees and customers is a top concern and we're here to help. These services are perfect for offices, places of worship, gyms, schools, daycares and more.
To inquire about commercial services, please give us a call, and we can discuss your business' needs directly.
We'd Love to Meet You!
If you aren't part of our Maid Brigade family yet, we're excited about the opportunity to welcome you. Our team has served local communities in the Canton, OH area since 2003 and quickly became the preferred cleaning service. Our people, the sparkling clean, and the health benefits of green cleaning truly differentiate us from competitors. Enjoy the extra time you'll have by spending the day in Canton visiting great destinations like the McKinley Museum, the classic automobile museum, the First Ladies Museum, or the Stark Campus of Kent State University. Call our office today at (330) 453-6000 to schedule service or to have your questions answered.

At Maid Brigade, our customer-oriented approach has earned us a reputation as the preferred residential cleaning service of your neighbors and friends since 2003. Our team takes great pride in serving Canton, Akron, Medina and surrounding communities. We strive to provide our clients with the best service, highest-quality cleanings, and the healthiest environment for families, pets and visitors. From our family to yours, we invite you to give us a try. Call, request a Free, No Obligation estimate through the website, or ask the team of maids when you see our cars in your neighborhood.

Want to learn green cleaning tips, tricks, and understand the many different ways it can positively affect your life? Checkout our blog, and also sign up to receive our newsletter.
Tips, Tricks, and Hints
Interested in cleaning and organization tips from experts? Visit our blog for more information.
Hours of Operation

Monday:
Tuesday:
Wednesday:
Thursday:
Friday:
Saturday:
Sunday:
Customer Reviews
Read what our valued customers have to say!
Maid Brigade of Northeast Ohio services the following areas:
Akron, Bath, Barberton, Canal Fulton, Canton, Clinton, Copley, Cuyahoga Falls, Fairlawn, Green, Hartville, Hudson, Jackson Township, Louisville, Massillon, Medina, Mogadore, Munroe Falls, North Canton, Norton, Peninsula, Richfield, Stow, Tallmadge, Uniontown, and Wadsworth.