Professional Maid, Cleaning and Disinfection Services in Oceanside, CA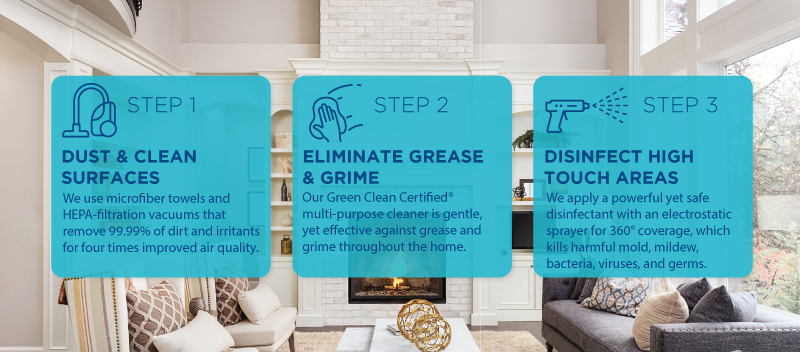 PUREmist®: Green Cleaning and True Disinfection
Since opening our doors, we've continued to pioneer innovations in home cleaning and cleaning technology far beyond typical residential cleaning services. Our trusted green cleaning process has always focused on wellness in our customers' homes and creating a living space that feels healthier and looks spectacular. Now…We introduce Green Cleaning + Disinfection with PUREmist®!
At Maid Brigade, we're excited to bring green cleaning and disinfection technology to maid service and house cleaning. We are a Green Clean Certified® maid service, bringing safe and healthy cleaning services to your home, family and the environment. In addition to our green cleaning care, we are now able to truly disinfect your home using PUREmist®, electrostatic spray technology. Germs, bacteria and viruses are a concern for all of us, and we recognize the importance of bringing safe cleaning and disinfection services to your home. PUREmist® provides 360-degree hospital-grade disinfection on high-touch surfaces such as light switches and doorknobs. We are proud to have significantly increased the thoroughness of house cleaning and wellness for our customers while significantly reducing the associated harmful chemicals.
PUREmist® disinfects against:
Cold & Flu strains
E. coli
Salmonella
Staph
Norovirus
Canine Parvovirus
Mold/mildew
Foul odor
And much more!
Learn more about the benefits of PUREmist® in your home.
We provide extensive training for our cleaning teams on our PUREmist® sprayers, so every home is given top quality care, every time. Upon application, our green cleaning and disinfecting solutions are safe for your whole family, including pets! You can always count on Maid Brigade to give your North County home a reliable cleaning and outstanding customer service.

Choose The Best Cleaning & Disinfection Frequency for Your Home


Commercial Cleaning & Disinfection
In addition to our residential home cleaning and disinfection services, we're excited to bring our cleaning and disinfection services to small and medium sized businesses in North San Diego County. Cleaning and disinfection services in the workplace are crucial for the health and safety of your employees and customers. These services are perfect for offices, places of worship, gyms, schools, daycares and more.
To inquire about commercial services, please give us a call, and we can discuss your business' needs directly.
Green Cleaning for Your Health
Cleaning your home right means using superior equipment like commercial backpack vacuums with triple HEPA filtration. And these days, no home is properly clean unless it's been cleaned with eco-friendly supplies and techniques. Our Oceanside maid service is pleased to be the first Green Clean Certified® residential cleaning service in the Oceanside, CA area. Green Clean certification means that the health and well-being of your family and our maids is as important to us as a clean house. And we believe you'll get a cleaner home – and a greener environment – because of it. For more information, call us today and speak with a knowledgeable cleaning expert. .
To get superior clean from superior maids, move in / move out house cleaning, seasonal top-to-bottom domestic cleaning services, or just a little help when your regular home cleaning staff is on vacation, click the links at the right or give our Oceanside maid service a call today.
Time Back in Your Week

Maid Brigade invites you to find out what a Saturday without cleaning your home can be. The water in your mop bucket shouldn't be the only H2O you see this weekend. Call one of our professional maids today, then spend Saturday and Sunday at Oceanside Pier, the San Diego Zoo, Scripps Aquarium, or the California Surf Museum instead. Whether you live in Cardiff by the Sea, La Costa, Fairbanks Ranch, or anywhere else in and around North San Diego County, it's time you got your free time back. And it's time you hired a truly superior housecleaning company.
Where We Service
Oceanside | Encinitas | Carlsbad | Solana Beach | Vista | San Marcos | San Elijo Hills | Rancho Santa Fe