Professional Maid, Cleaning, and Disinfection Services in Vancouver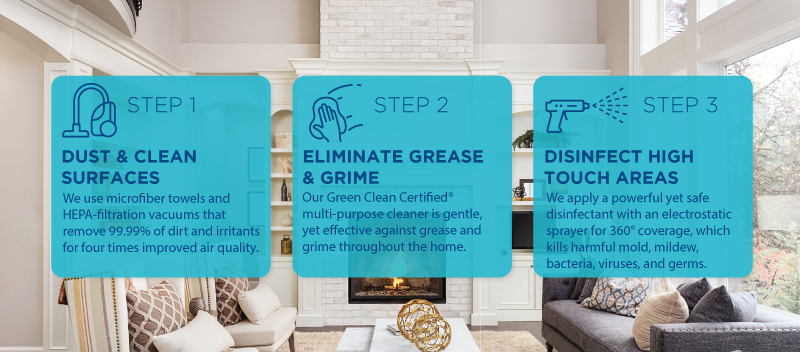 PUREmist®: Green Cleaning and True Disinfection
Since opening our doors, we've continued to pioneer innovations in home cleaning and cleaning technology far beyond typical residential cleaning services. Our trusted green cleaning process has always focused on wellness in our customers' homes and creating a living space that feels healthier and looks spectacular. Now…We introduce Green Cleaning + Disinfection with PUREmist®!
At Maid Brigade, we're excited to bring green cleaning and disinfection technology to maid service and house cleaning. We are a Green Clean Certified® maid service, bringing safe and healthy cleaning services to your home, family and the environment. In addition to our green cleaning care, we are now able to truly disinfect your home using PUREmist®, electrostatic spray technology. Germs, bacteria and viruses are a concern for all of us, and we recognize the importance of bringing safe cleaning and disinfection services to your home. PUREmist® provides 360-degree hospital-grade disinfection on high-touch surfaces such as light switches and doorknobs. We are proud to have significantly increased the thoroughness of house cleaning and wellness for our customers while significantly reducing the associated harmful chemicals.
PUREmist® disinfects against:
Cold & Flu strains
E. coli
Salmonella
Staph
Norovirus
Canine Parvovirus
Mold/mildew
Foul odor
And much more!
Learn more about the benefits o PUREmist® in your home.
Our Vancouver maid service is committed to our happy customers and clean homes. Owner Jason knows how difficult it can be for Surrey, Tswassen, Delta, Langley and White Rock residents to find time for house cleaning and we are here to take this chore off of your to-do list. Rather than spending the weekend with a mop in hand, imagine picking up a pair of golf clubs and visiting The City of Parks, or stopping by one of the many farmers' markets for fresh, local produce. With Maid Brigade as your cleaning service, the dream of a clean home and more time can become a reality!

We provide extensive training for our cleaning teams on our PUREmist® sprayers, so every home is given top-quality care, every time. Upon application, our green cleaning and disinfecting solutions are safe for your whole family, including pets! You can always count on Maid Brigade to give your Vancouver, BC home a reliable cleaning and outstanding customer service.

Are you ready to learn how Maid Brigade of Metro Vancouver can make your life easier? Just give us a call at 604-596-3936 to receive a FREE estimate. We can't wait to take care of your house cleaning needs so you can spend more time enjoying life with your family and friends.

Choose The Best Cleaning & Disinfection Frequency for Your Home



Airbnb Cleanings

Airbnb, the popular lodging rental website, allows for easy & secure home or room rentals across Vancouver. At Maid Brigade, we are happy to offer Airbnb cleaning services for homeowners. We'll make sure your renters are treated to a sparkling clean upon their arrival. Give our office a call to receive a personal quote and schedule your Airbnb house cleaning.
Commercial Cleaning & Disinfection
In addition to our residential home cleaning and disinfection services, we're excited to bring our green cleaning and 360-electrostatic spray disinfection services to small and medium-sized businesses in Metro Vancouver. Cleaning and disinfection services in the workplace are crucial for the health and safety of your employees and customers. These services are perfect for offices, places of worship, gyms, schools, daycares, and more.
To inquire about commercial services, please give us a call, and we can discuss your business needs directly.