Trusted Cleaning Services and Disinfection in Northern CT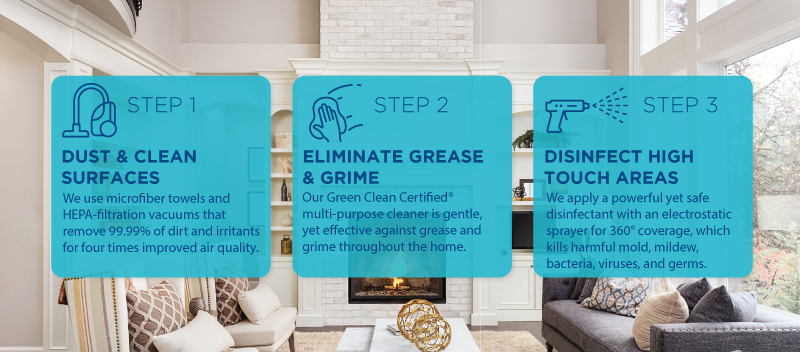 PUREmist®: Green Cleaning and True Disinfection
Since opening our doors in 2004, we've continued to pioneer innovations in home cleaning and cleaning technology far beyond typical residential cleaning services. Our trusted green cleaning process has always focused on wellness in our customers' homes and creating a living space that feels healthier and looks spectacular. Now…We introduce Green Cleaning + Disinfection with PUREmist®!
At Maid Brigade, we're excited to bring green cleaning and disinfection technology to maid service and house cleaning. We are a Green Clean Certified® maid service, bringing safe and healthy cleaning services to your home, family and the environment. In addition to our green cleaning care, we are now able to truly disinfect your home using PUREmist®, electrostatic spray technology. Germs, bacteria and viruses are a concern for all of us, and we recognize the importance of bringing safe cleaning and disinfection services to your home. PUREmist® provides 360-degree hospital-grade disinfection on high-touch surfaces such as light switches and doorknobs. We are proud to have significantly increased the thoroughness of house cleaning and wellness for our customers while significantly reducing the associated harmful chemicals.
PUREmist® disinfects against:
Cold & Flu strains
E. coli
Salmonella
Staph
Norovirus
Canine Parvovirus
Mold/mildew
Foul odor
And much more!
Learn more about the benefits of PUREmist® in your home.
We provide extensive training for our cleaning teams on our PUREmist® sprayers, so every home is given top quality care, every time. Upon application, our green cleaning and disinfecting solutions are safe for your whole family, including pets! You can always count on Maid Brigade to give your Northern Connecticut home a reliable cleaning and outstanding customer service.

Choose The Best Cleaning & Disinfection Frequency for Your Home


Commercial Disinfection
In addition to our residential home disinfection services, we're excited to bring our 360-electrostatic spray disinfection services to small and medium sized businesses in Northern Connecticut. Disinfection services in the workplace are crucial for the health and safety of your employees and customers. These services are perfect for offices, places of worship, gyms, schools, daycares and more.
To inquire about commercial services, please give us a call, and we can discuss your business' needs directly.
Our People Shine!
When you hire Maid Brigade, you receive:
A green clean! We provide safe and effective green cleaning products and all equipment.
Uniformed, bonded & insured professional employees.
All customers assigned to a regular Team, so you know your Team and they know you.
All services on our Regular Service list performed every time, we don't clean on rotation.
If requested, 2 hour cleaning windows Monday-Friday that work with your calendar.
Reminder calls or texts the day before your scheduled cleaning and easy to answer quality follow-ups every time a Team comes.
Your weekends back and peace of mind because you know your house is clean!
Customer Testimonials
After every cleaning, we email a quality card for feedback. We love hearing how our house cleanings helped our customers. Read what they have to say and feel free to share your own great story!
About Us
My name is Annie Bobbitt and I have been the owner of Maid Brigade of Northern Connecticut since May of 2012. Along with our Operations Manager Kim Lavigne and every Team member, our highest priority is to please our customers with affordable, reliable, consistent green cleaning.