Trusted Maid, Cleaning and Disinfection Services in Central New Jersey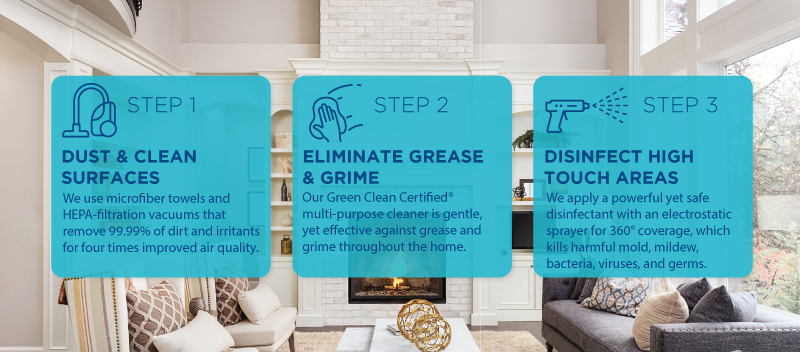 PUREmist®: Green Cleaning and True Disinfection
For over 12 years, we've continued to pioneer innovations in home cleaning and cleaning technology far beyond typical residential cleaning services. Our trusted green cleaning process has always focused on wellness in our customers' homes and creating a living space that feels healthier and looks spectacular. Now…We introduce Green Cleaning + Disinfection with PUREmist®!
At Maid Brigade, we're excited to bring green cleaning and disinfection technology to maid service and house cleaning. We are a Green Clean Certified® maid service, bringing safe and healthy cleaning services to your home, family and the environment. In addition to our green cleaning care, we are now able to truly disinfect your home using PUREmist®, electrostatic spray technology. Germs, bacteria and viruses are a concern for all of us, and we recognize the importance of bringing safe cleaning and disinfection services to your home. PUREmist® provides 360-degree hospital-grade disinfection on high-touch surfaces such as light switches and doorknobs. We are proud to have significantly increased the thoroughness of house cleaning and wellness for our customers while significantly reducing the associated harmful chemicals.
PUREmist® disinfects against:
Cold & Flu strains
E. coli
Salmonella
Staph
Norovirus
Canine Parvovirus
Mold/mildew
Foul odor
And much more!
Learn more about the benefits of PUREmist® in your home.
Why Maid Brigade?
We provide extensive training for our cleaning teams on our PUREmist® sprayers, so every home is given top quality care, every time. Upon application, our green cleaning and disinfecting solutions are safe for your whole family, including pets! You can always count on Maid Brigade to give your Hunterdon County home a reliable cleaning and outstanding customer service.
Maid Brigade has been a family-owned and trusted member of the Hunterdon County business community for over 12 years. We are the only cleaning service to offer Green Clean Certified® maid service with the latest green cleaning products.
In addition to surface level green cleaning, our HEPA filtered vacuums reach 99.9% of allergens, giving your family and pets safer, cleaner air to breathe. Our application-specific cloths and mopheads eliminate cross contamination giving each surface the safest clean possible. Since we don't use disposable paper products, all cleaning cloths and mopheads are laundered after each use. We can make your home -- and you -- shine, safely.
Choose The Best Cleaning & Disinfection Frequency for Your Home


Commercial Cleaning & Disinfection
In addition to our residential home cleaning and disinfection services, we're excited to bring these professional services to small and medium sized businesses in Central New Jersey. Cleaning and disinfection services in the workplace are crucial for the health and safety of your employees and customers. These services are perfect for offices, places of worship, gyms, schools, daycares and more.
To inquire about commercial services, please give us a call, and we can discuss your business' needs directly.
Locally Owned & Operated
Your home is cared for by your very own neighbors in the community since each Maid Brigade office is locally owned and operated! Bringing you quality customer service and care is important and it starts with our teams. All Maid Brigade employees are background checked, certified, bonded, & insured. You can feel confident that Maid Brigade is ready to bring you reliable, consistent cleanings every time.
Between work, family and social schedules, house cleaning can sometimes feel like burden. At Maid Brigade of Central New Jersey, we're here to help eliminate the stress of house cleaning so you can focus on day-to-day life. Come home to a fresh, sparkling home without lifting a finger! Our trusted and experienced teams are here to give your home a consistent, green clean.
Schedule Your Cleaning
We offer flexible scheduling options, including weekends, to help fit with your busy day-to-day. Give our office a call today at 908-735-8227 to find out availability options for your home.
Monday through Friday: 8AM-4PM
Saturday & Sunday: Open based on need