Professional Maid, Cleaning and Disinfection Services in Knoxville, TN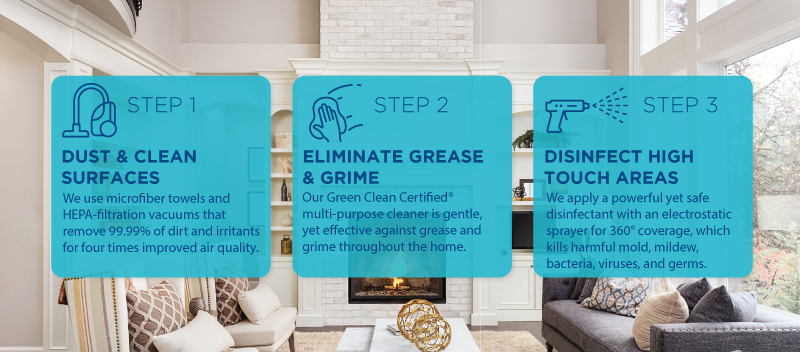 PUREmist®: Green Cleaning and True Disinfection
At Maid Brigade of Knoxville, we're more than just a service company—we're a family. We are engaged in our community, and we strive to bring out the best in each other so that we can bring out the shine in your home! We're dedicated to getting your home looking great by giving it the attention it deserves.

We've continued to bring our customers the latest innovations in home cleaning and cleaning technology that go far beyond typical residential cleaning companies. We are proud to have always focused on the overall wellness of our customers' and their homes and creating a living space that feels healthier and looks spectacular. Now…We introduce Green Cleaning + Disinfection with PUREmist®!
We are excited to now introduce disinfection along with our green cleaning services at Maid Brigade! We are a Green Clean Certified® maid service, meaning we provide safe and healthy cleaning services to your home, family and the environment. Now, we are able to truly disinfect your home using PUREmist®, electrostatic spray technology. Germs, bacteria and viruses are a constant concern for so many of us, and we recognize the importance of bringing safe cleaning and disinfection services to your home. Our PUREmist® sprayer provides 360-degree hospital-grade disinfection on high-touch surfaces such as light switches and doorknobs. We are proud to have significantly increased the thoroughness of house cleaning and wellness for our customers while significantly reducing the associated harmful chemicals.
PUREmist® disinfects against:
Cold & Flu strains
E. coli
Salmonella
Staph
Norovirus
Canine Parvovirus
Mold/mildew
Foul odor
And much more!
Learn more about the benefits of PUREmist® in your home.
Our Trusted Home Cleaning Methods & Technology
We provide regular training for our cleaning teams on our PUREmist® sprayers, so every home we clean and disinfect is given top quality care, upon every visit. Once applied, our green cleaning and disinfecting solutions are safe for your whole family, including pets! You can always count on Maid Brigade to give your Knoxville home a trusted and reliable cleaning along with outstanding customer service.

In addition to our PUREmist® sprayers, Maid Brigade's cleaning professionals use HEPA-filtered, 4-stage filtration vacuums to remove 99.9% of air particles sizes 1 micron and larger for premium indoor air quality. Why do our vacuum cleaners perform better? Since conventional vacuums aren't able to trap and contain particulates pulled from the home, many are released back into the air. This is an important issue that the American Lung Association has dedicated resources in order to educate the public about indoor air quality and its relationship to your health. The vacuums we use are recommended by the Carpet & Rug Institute for meeting their Green Label Program standards for soil removal, dust containment, and carpet appearance retention. They're also approved by the U.S. Green Building Council for LEED credit.

Choose The Best Cleaning & Disinfection Frequency for Your Home


Standard Tasks
Living Room & Bedroom
Empty wastebaskets
Make beds
Dust reachable ceiling fans and blinds
Dust windowsills, decorations and wall hangings
Vacuum or mop all floors
Kitchen
Sanitize and clean appliances, stove and counter tops
Clean inside of microwave
Dust cabinetry exteriors
Mop floors
Bathrooms
Sanitize and clean sinks, toilets, tubs and showers
Clean mirrors
Shine Fixtures
Fold Towels
Mop floors
Additional Maid Brigade Home Cleaning Services
In addition to the standard tasks we offer, your first visit from Maid Brigade may include complimentary deep cleaning perks, such as cleaning your baseboards or spot cleaning your walls. While these services are not included in our standard services, you can always let us know if you'd like to upgrade your service. Because services may vary by location and/or region, please give us a call to discuss your personal cleaning needs.
Commercial Cleaning & Disinfection
In addition to our trusted residential home cleaning and disinfection services, we're excited to bring these services to local small and medium sized businesses in and around Knoxville. Disinfection services are extremely important for maintaining a healthy and safe workspace. The health and safety of your employees and customers is a top concern and we're here to help! These services are perfect for offices, places of worship, gyms, schools, daycares and more.
To inquire about commercial cleaning and disinfection services, please give us a call, and we can discuss what your business needs.
Focus on Your Life, Not Your Cleaning Schedule
When you trust Maid Brigade for your home cleaning needs, you'll be surprised by how much time you have to enjoy your daily life in the Knoxville area.
Take your morning coffee to go– head to Golden Roast Coffee on your way to a long walk Ijams Nature Center. Have lunch in Market Square or go for Barbecue at Calhoun's, then, do some shopping in the Old City District. Set up a playdate for the kids at Zoo Knoxville. Treat yourself to some pampering at Longevity Massage Specialists. Go see a band or a play at the Tennessee Theatre. Head to Bistro by
the Tracks for an excellent meal, and linger afterwards for the wine.
However you choose to spend your time in Knoxville, you can rest assured that you'll be able to focus on the things that really matter, not your endless to-do list. Get an Estimate today!
Hours of Operation
At Maid Brigade of Knoxville, our home cleaning professionals are available to help make your home sparkle Monday - Friday from 8:00 AM - 5:00 PM.